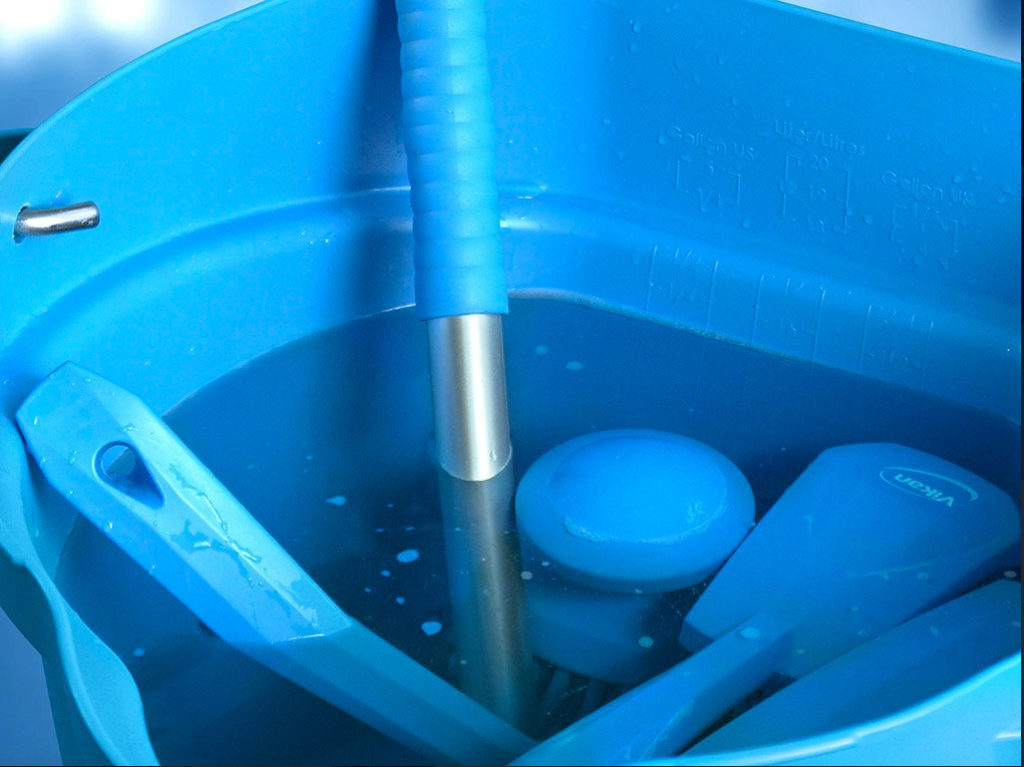 Products from PHS HACCP should be regularly maintained for long life and to comply with food safety standards. Daily care and maintenance of material handling and cleaning tools is recommended.
The proper steps to maintaining food safety.
A thorough wet cleaning of tools is recommended following each use.
When in use, tools should be routinely kept free of gross soils and inspected to ensure they have not incurred damage during use, which may pose a hazard to the user, environment, or food product.
Cleaning your cleaning tools should be approached in the same manner that you clean any other equipment or surface in your facility to remain in compliance with CGMPs and FSMSs.
These tools are not intended to remain in caustic baths or soaks for extended periods of time.
Most PHS HACCP tools are autoclavable up to a temperature of 250°F/121°C.
Plastic cleaning tools should be hung to dry, ensuring they dry thoroughly and do not change shape after being exposed to high temperatures.
While in the hanging bracket, tools should not come into contact with walls or other tools. In particular, brush bristles should not come into contact with other surfaces while drying or being stored.
The following are some of the basic cleaning principles observed in food safe environments:
Dry clean: Remove visible and gross soils and debris.
Pre-rinse: Rinse (using the lowest possible pressure) all areas and surfaces until they are visibly free of soils.
Wash (Soap & Scrub): Use the correct detergent, in the right concentration, in conjunction with mechanical action, in the correct water temperature for the appropriate contact time.
Post-rinse: Visibly rinse away all detergents and remaining soils.
Inspect: Scrutinize areas that are challenging to clean and ensure they are free of soils and detergents. Determine whether steps 1-5 should be performed again.
Sanitize: Foam, wipe or spray sanitizing chemicals (as directed by an SSOP or chemical supplier instruction) onto surfaces and ensure the designated contact time is met.
Dry: Ensure adequate time is allotted to dry thoroughly, especially with non-rinse sanitizers.
Verification: Gather proof (visual or microbiological) that the cleaning performed achieved the level of expected clean by following facility verification protocols.
This care and maintenance information is based on a variety of sources, including the references listed below:
Regulations and Standards pertaining to equipment sanitation, maintenance and construction:
21 CFR Part 110 Subparts B and C
FSMA Final Rules on Preventive Controls for Human Food, Preventive Controls for Food for Animals and Produce Safety
FSIS-USDA Sanitation Performance Standards Compliance Guide
State by State Food Establishment Regulations
HACCP (Dairy, Juice, Seafood, Retail & Food service)
3A Sanitary Standards
EHEDG
GFSI Schemes
Academia & Industry References for Guidance on Sanitation Practices:
IFPTI
University of Florida IFAS Extension
IAFP Food Hygiene & Sanitation PDG
IAFP Food Protection Trends
NSF
HACCP Consulting Group LLC
Commercial Food Sanitation LLC