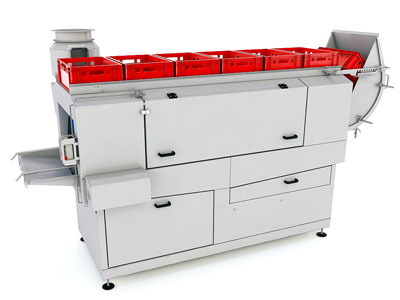 What is a Crate Washer?
A crate washer is a large industrial stainless steel machine that is used to clean plastic storage crates quickly and efficiently. The crates are transported through the washer by synthetic chains with spraying arcs that are provided by several smart, synthetic click nozzles. Crates are cleaned in the main wash zone which is supplied with water by a very powerful, but energy-efficient pump. The main wash tank is equipped with sensors to detect water levels so that you don't have to.
Tons of industries use crates to protect and ship their product, so the demand to keep these crates properly sanitized consistently remains high. There are multiple models of crate washers that vary in maximum number of crates washed and rinsed per hour. Some models even contain blow-off units that dry the crates with hot air.
Crate washers are simple for anyone to operate. The controls are as easy as pushing a start and a stop button. Plus, the design of the machines makes them very practical to handle and clean with adjustable feet and access to the wash tunnel through a set of upward-folding doors. A smart sensor will stop operation while in use if the doors are opened, or if the machine needs to be cleaned.
What are the Benefits of using Crate Washers?
Most hygienic method of crate cleansing
Easy to use (one man operation)
All stainless steel
Improves employee safety
Saves time
Reduces costs
Easy adjustable click nozzles
Extremely energy efficient
What Industries use Crate Washers?
Food industries (especially seafood, poultry, meat, eggs, and dairy)
Livestock industries
Pharmaceutical industries
Automobile industries
Industrial parts manufacturing industries
How do Crate Washers Work?
Crate washers are made up of different zones:
Pre-wash Zone – Spray nozzles clean the crates at a lower water temperature, removing blood and protein residues from the crates.
Main Wash Zone – Spray nozzles clean the crates with very hot water. All contaminates are removed in combination with the appropriate chemicals.
Sticker Removal – Stickers and adhesives are removed from crates using high-pressure dirt killers. All four sides of the crate are treated. A small microfilter keeps water free of small particles.
Rinse Zone – Crates are rinsed with fresh cold or hot water to remove any residual detergent. Hot water helps the crates dry faster. Crate washers are designed for re-using the rinse water.
Blow-off Unit Zone – Stainless steel fans blow hot air through the crates. The air is heated from air circulation making it more energy efficient and creating a better blowing capacity
How to Operate a Crate Washer
Push the start button
Put crates on the top conveyer belt of the machine
Continue to push the crates through- they will cycle out the other end
Use the lever to open the wash tunnel to clean the bottom of the unit. A smart sensor will automatically shut the machine off when it needs to be cleaned
Turn the hose on the bottom side of the crate washer to the left to drain the water after use. Use the attached hose to clean the inside of the crate washer through the upward-folding doors
Premier Handling Solutions carries a wide variety of crate washer models, suitable for any type of company's needs. There is no need to clean all those crates by hand when your business can use industrial crate washers. From saving water, to saving your employees' time and patience while cleaning more bins, you could be eliminating a great deal of stress and saving an abundance of money for your company.