HACCP Color Coding — Minimizing Risks and Improving Food Safety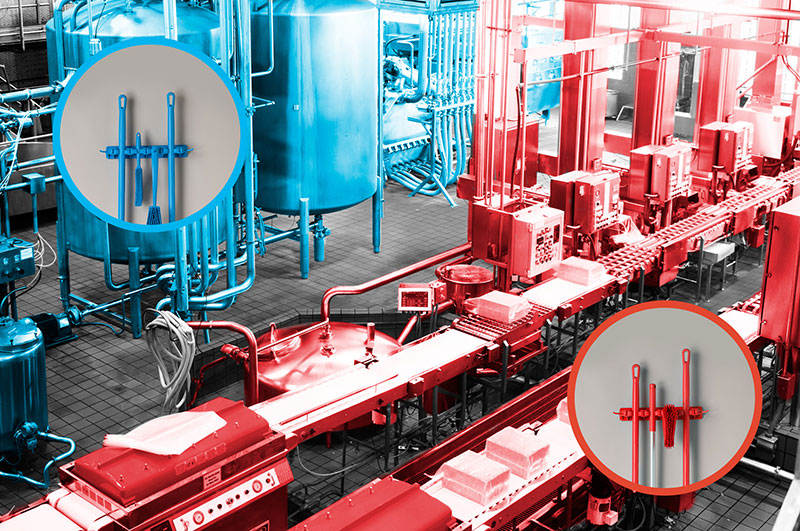 At PHS HAACP, we help you minimize the risk of cross contamination while maintaining a safe hygienic facility for meeting today's food safety guidelines.
Color-coding your cleaning material is a proven practice that effectively communicates hazards and helps food processors achieve high quality food safety standards.
Tips to Help Build an Effective Color-Coding Plan
According to the Centers for Disease Control's food-borne outbreak tracking & reporting, 48 million (about 1 in 6) people in the US get sick from eating contaminated food each year. There are more than 250 pathogens and toxins that are known to cause food-borne illness. A number of these occurrences are considered preventable and an effective color-coding plan can help. To prevent cross-contamination from wreaking havoc throughout a facility, consider these tips: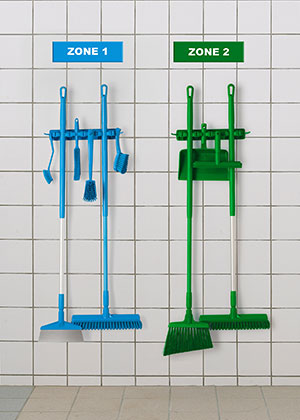 Keep it Simple
Avoid complicated color assignments and keep your system simple. Color-code only the most important areas or items used to control cross-contamination.
Pick Logical Colors
Ensure that the colors you select are easily recognized and understood by everyone involved.
Make it Clear
Reinforce your color assignments with consistent and appropriate signage. Provide clearly marked storage areas throughout your facility and grounds
Communicate the Program
Have a communication strategy for rolling out the program to your employees. Revisit it regularly to ensure it's working.
Choosing your color-coding plan:

PHS HACCP has up to nine color options for color-coding your work environment. Ordering is simple, just add your color number (shown below) at the end of your part number.