Product Description
This Industrial Crate Washer is made up of solid plates and profiles of stainless steel, with adjustable feet.  Access the wash tunnel through upward-folding doors, which will instantly stop operation if opened while in use. Crates are transported through the washer by synthetic chains.
Crates are cleaned in the main wash zone by click nozzles supplied with water by a powerful and energy-efficient pump. The main tank is filled with its own water connection, and is equipped with sensors to detect levels.
After going through the main wash zone, the crates are rinsed with fresh water to remove any remaining deter-gent. The rinse is controlled by a sensor and the water supply will remain closed if no crates are present.
Crate Washer Features
Energy efficient
Easy adjustable click-nozzles
Stainless steel
Optional one man operation
Pre-wash, main and after rinse zones
Crate Washer Options Images
Crate Washer Options & Part Numbers
83109110 — Dosing pump for detergent
83109120 — Dosing pump for rinse aid
83109217 — Vapor extraction
83109002 — Heating by steam injection
83109005 — Heating by hot water coil
83109012 — Heating by electric element – 12kw (EKW 1500)
83109015 — Heating by electric element – 20kw
83109020 — Heating by electric element – 30kw
83109150 — Mobile Version (EKW 150, 2500 and 3500)
83108025 — Adjustable belt speed by frequency control
83101049 — One man operation (EKW 1500, 2000 and 3500)
83108000 — Input table – 1 meter
83108010 — Output table – 1 meter
83108080 — Rotating wedge-wire filter (EKW 5000, 6000 and 7000)
83108055 — Enlarged height: Crates up to 400mm (EKW 2500 and 3500)
83108065 — Enlarged height: Crates up to 400mm (EKW 5000, 6000 and 7000)
83107005 — Upgrade from EAB-1 to EAB-2 blow off unit
83107205 — Upgrade from EAB-2 to EAB-3 blow off unit 83108027 Pump to re-use water from EAB in EKW
Crate Washer Part Numbers
83101125 — EKW-1500 (Max. 170 crates per hour)
83101150 — EKW-2500* (Max. 400 crates per hour)
83101350 — EKW-3500 (Max. 560 crates per hour)
83101650 — EKW-5000 (Max. 800 crates per hour)
83101750 — EKW-6000 (Max. 960 crates per hour)
83101850 — EKW-7000 (Max. 1120 crates per hour)
EKW + Blow off unit EAB Crate Washer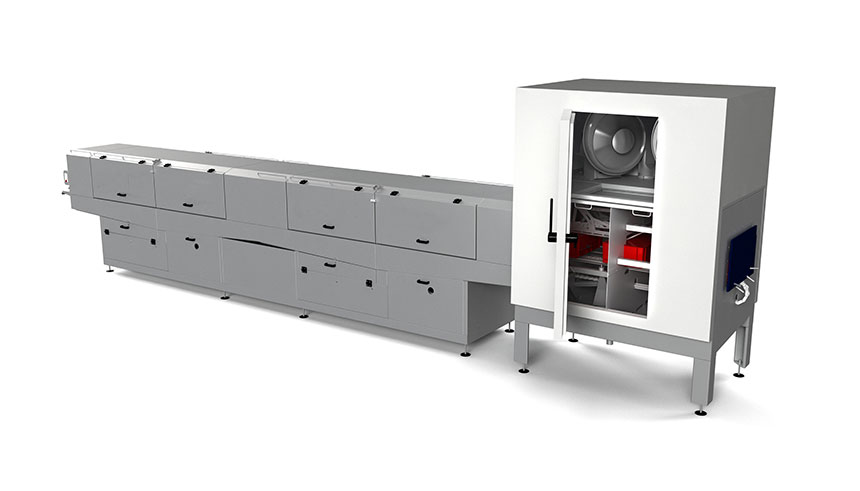 A blow off unit can be added to the EKW Crate Washer. This unit dries the crates once they have been washed.
The crates get blown off by stainless steel fans. The intelligent design heats the air (through recirculation) up to approximately 122°F/50°C, which results in the quickest drying process.
EKW + Blow off unit EAB Crate Washer Part Numbers
83101151 — EKW-2500 + Blow off unit (Max. 400 crates per hour)
83101351 — EKW-3500 + Blow off unit (Max. 560 crates per hour)
83101651 — EKW-5000 + Blow off unit (Max. 800 crates per hour)
83101751 — EKW-6000 + Blow off unit (Max. 960 crates per hour)
83101851 — EKW-7000* + Blow off unit (Max. 1120 crates per hour)