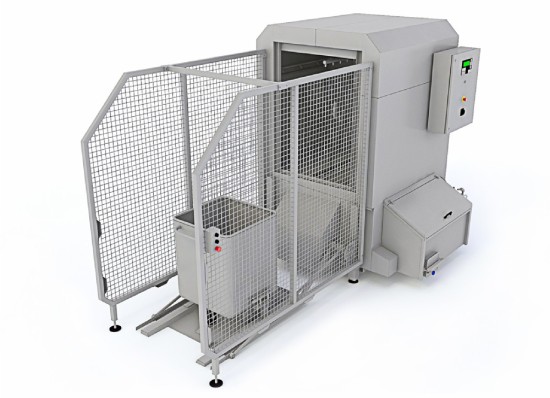 What is a Bin/Buggy Washer?
A bin washer is a large industrial machine that is used to clean stainless steel bins (sometimes called buggies or vats) for optimum safety in food handling and transportation at quicker speeds. The average bin washer can thoroughly clean about twenty bins per hour, guaranteeing complete sanitation amongst every crevice of the bin. The actual bin washers are also made of stainless steel, making them a long-lasting product and more cost-efficient for your business.
Bin washers are very easy to clean and maintain for your convenience. The bottom of the cleaning tank is already slanted to allow quick draining. The cabinet has a large door that enables easy access to cleaning the inside of the bin washer. All operational mechanisms for the spraying arms, water pumps, and dosing pumps are located in the back of the cabinet in an enclosed area accessible through removable hatches. Solutions are automatically programed and saved to conserve chemicals, water, and energy, making bin washers an overall sustainable product.
Who uses Bin Washers?
Most food industries, especially:

Meat and poultry
Other produce industries- fruits, vegetables, nuts, grains, etc.
Dairy
Beverage
Snack foods
Bakeries/confectionary
Sauces
What are the Benefits of using Bin Washers?
Adjustable
Reduces cost
Improves food safety
Most hygienic way of decontaminating bins before reuse
Improves employee safety
Simple one-man operation
Energy-efficient
After rinse with clean water
How do Bin Washers Work?
Place one bin at a time on the conveyer and push the start button on the control panel
The conveyer will insert the bin into the washer by lifting and tipping it at a 90° angle to its side so the water can reach all sides of the bin. The door will shut automatically
The cleaning cycle can be set at just minutes or at a maximum of 30 minutes depending on the level of contamination
The bin is ejected out of the washer on its own, tips back on a 90° and leaves the bin right-side up again. Your bin is ready to be pulled off of the conveyer
After the main wash is complete, the conveyer gets rinsed with clean water to remove remaining detergent
Cleaning stainless steel storage bins and buggies is at a constant demand and can be overwhelming for any business without a critical method of organization. Save your company the manpower and hassle of trying to adequately clean these bins by switching to one of our bin washers at Premier Handling Solutions.